How to illuminate different spaces
Saloon
This is together with the pantry probably the boat's most used indoor area. It is usually the crossing area when going to cabins and pantries. Here you socialize, read, check the charts, set the table, prepare dinner and eat. It is important to have a good, not blinding, light above the table and pantry, which you can dim. Enhance the daylight and create an illusion of space by installing hidden lights along with windows or in railings along the roof. Another great effect is to mount hidden string light at the base of the sofa or walls which gives you a nice light – especially in the evenings. Connect the lights to a dimmer for maximum effect.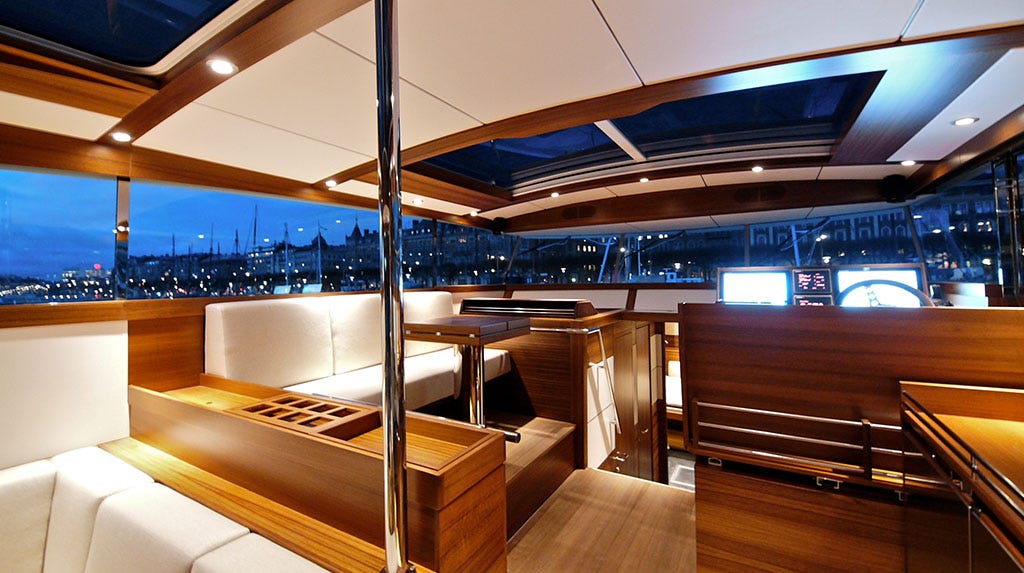 Cabin
We recommend hidden string lights or strip lights along with the ceiling and under the bed's edge, lifting the bed from the floor and also lights in the ceiling create the illusion of more space. Complete with some reading lights and of course dimmers! Do not forget to illuminate inside the wardrobes and storage compartments.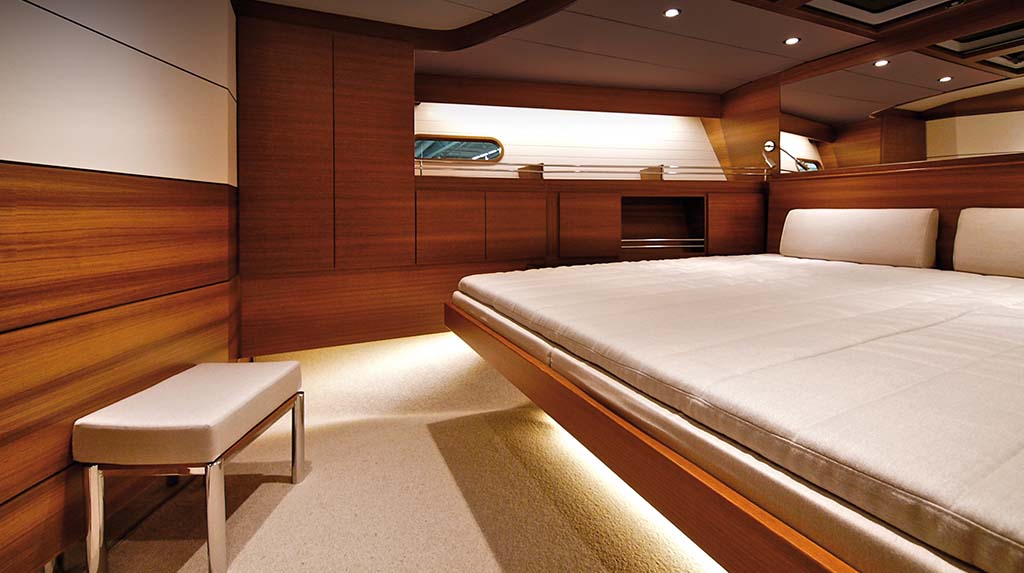 Pantry
In this area, it is important to have good lighting when cooking and also to find everything in cupboards and cram storage. Install spotlights above the stove and bench – all connected to a dimmer so you easily can change the light mood when desired. Another great solution is to mount a hidden string light along the inner edge of the bench that softly lights up the working area. Install small LED lights in cupboards and drawers that light up when open.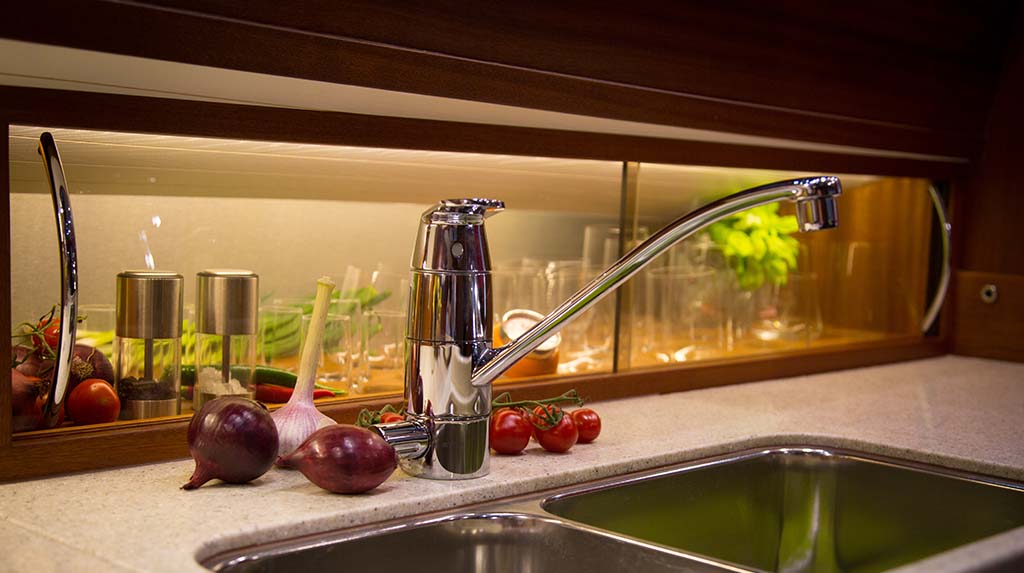 Outside/ Underwater
In the summer we want to enjoy the outdoors as much as possible. Sit in the soft evening light for dinners or just enjoy the outdoors. Here you can add space and atmosphere by adding small lights. Add step lights or dots along the floor as a soft background light while it also provides enough light to move around safely when it is dark. Put soft light around entrances, either in the steps or grab rails. It is important to place the lights so you won't get blinded. Another beautiful effect is to use underwater lights. Use blue lights for a lagoon feel.
WC / Washing area
Have a nice sidelight by the mirror. By illuminating walls, you will create a nice surrounding light. Add small lights in storage areas and by water taps so it is easy to find and work in the dark.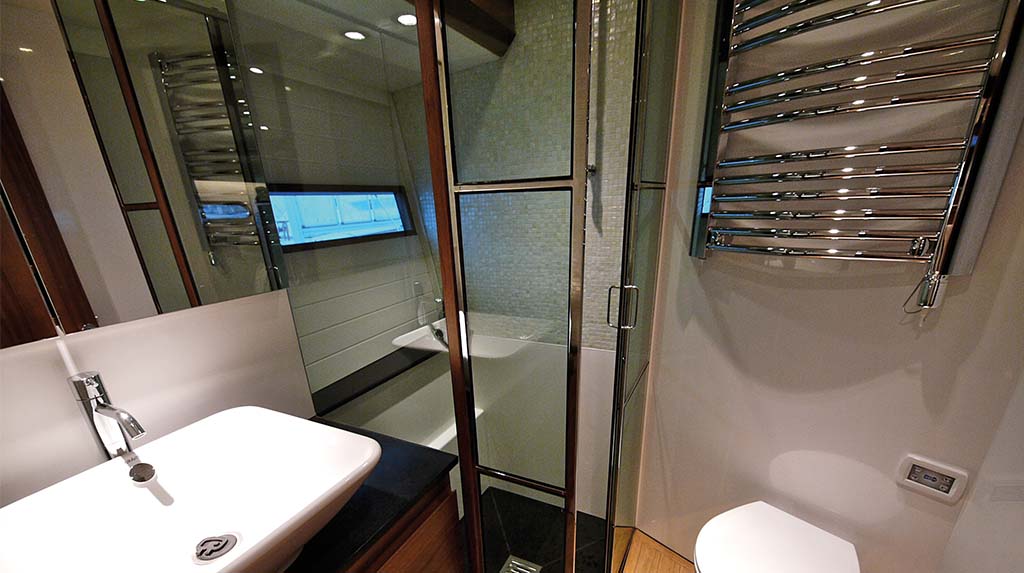 Engine and anchor compartments
Other areas where it is important to have good lighting are in the engine and anchor lift compartments. These are usually very cramped and you want good work light to be able to make services and installations possible. A very flexible and sturdy light is the LEDrail with its different mounting options and durable design.
1. Dim all lights!

Install dimmers for every light. The dimmer gives you unlimited possibilities of shifting the mood, from work light to a softer cozy light. Think of the dimmer as a volume button on a stereo.
2. Many light sources

By installing many different lights instead of just one big, gives you great flexibility to enhance special areas or objects, create contrasts, and in all a cozier environment. Think many candlelights or art museums

3. Integrated lights

Install and hide string lights and dots behinds railings, backrests, along with the floors, in cupboards, and in storage compartments. This will give you the illusion of a more spacious room with nice contrasts as well as provide a very practical light.
4. Experiment and keep an open mind

Take a light or a flashlight and try out different settings and angles. Indirect lighting in ceilings or along floors as well as spotlighting books and tables is a great way to enhance the environment.